This colorful chameleon is bilingual
Meet the chameleon that's just too cool and colorful to camouflage! The Counting Chameleon Puzzle from BeginAgain for toddlers is a rainbow of counting fun that teaches more than what meets the eye. The beautifully crafted pieces are perfect for little ones working on developing fine motor skills. It's a toy to help encourage imagination and creativity!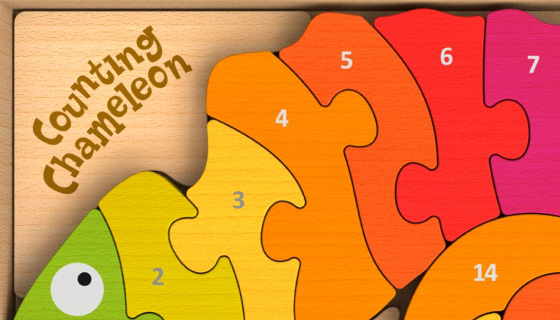 Vibrant, fun, eco-friendly
Let your child play & learn
Bilingual English - Spanish numbers
Each piece has a number from one to fifteen on one side, and the number words spelled out in English and Spanish on the other side!
Bright, inviting colors
Each chunky, double-sided piece fits sequentially for a rainbow of counting fun. It is eye-catching, and each piece complements the adjacent pieces.
Nice, fun & educational
This chameleon puzzle teaches problem-solving, number identification, and number sequence while also inspiring your child's imagination.
Сomes with a wooden storage tray
This durable rubberwood puzzle can be solved either standing up or sitting in its wooden storage tray. Easy cleaning and storage.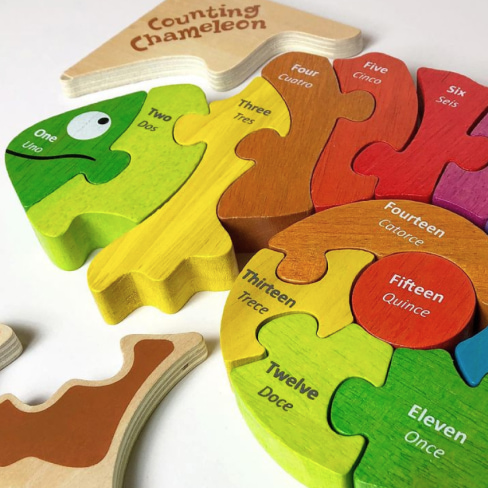 Sizing info & details
The Counting Chameleon Puzzle from BeginAgain measures approximately 7" wide x 10" long. This adorable playset is intended for ages 3 and up.
Makes a wonderful gift
A great gift for your own child that also makes an excellent birthday or baby shower gift! Great for every child, no matter the age or the occasion!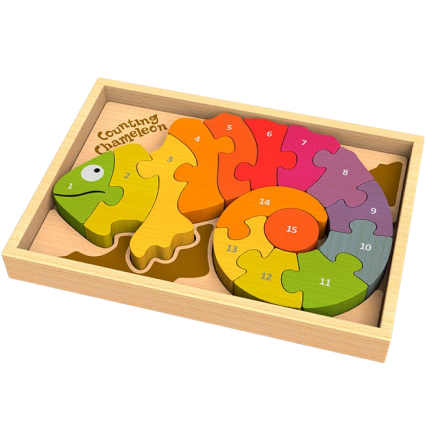 Educational & eco-friendly
The Counting Chameleon Puzzle is a natural wooden toy, handcrafted from plantation-grown rubberwood, stained with child-safe, non-toxic dyes. By making children's puzzles out of plants, not plastic, BeginAgain is contributing to a healthier planet and healthier kids.