Teach your kid through play
Introduce your child to a world of animals from A to Z
Kids get to make a colorful stegosaurus while learning colors and letters with this puzzle by BeginAgain. Alphabet- and puzzle-based problem solving come together to make this chunky wooden dinosaur come to life. Made from durable rubberwood, this wooden dino puzzle teaches the alphabet and inspires dinosaur tales.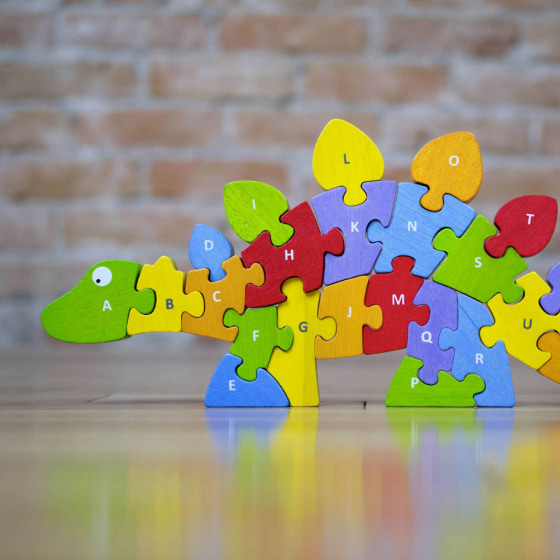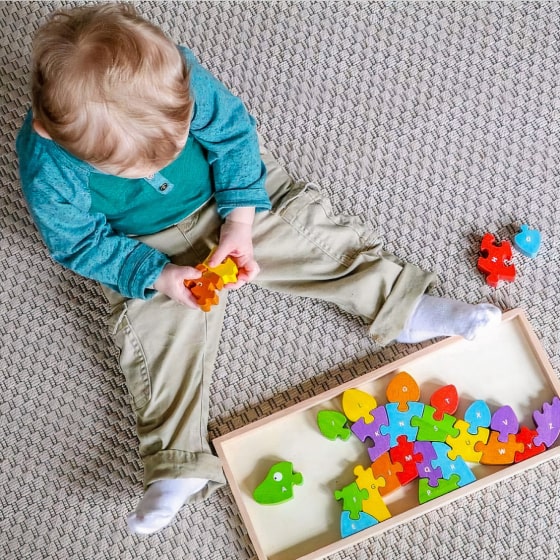 Build, experiment, and learn
A creative mix of old timey storytelling and responsibly crafted invention
Educational fun for toddlers
The Dinosaur A to Z Puzzle from BeginAgain makes learning fun! Your little one can learn the alphabet during playtime that also helps to improve problem-solving skills and creative thinking!
Inspires play and teaches letters
Each piece of this learning game puzzle has a lowercase letter on one side, and an uppercase on the other. Once all the pieces are in place, watch learning come to life – this dinosaur toy can even stand up!
Made from plants before plastics
Puzzles, toys, and games from BeginAgain are made from sustainably grown rubberwood. Grown on farms, not cut from forests. NO plastic worries - NO BPA / NO phthalates.
Finished with water-based child safe stains
These toys are finished with stains and not paints, and water-based stains are used for the safety of our toys.
A learning game to love
Whether getting lost in the letters or scheming and making stories about this superb stegosaurus, a world of exploration awaits in this children's puzzle, educational game and dinosaur toy, all in one!