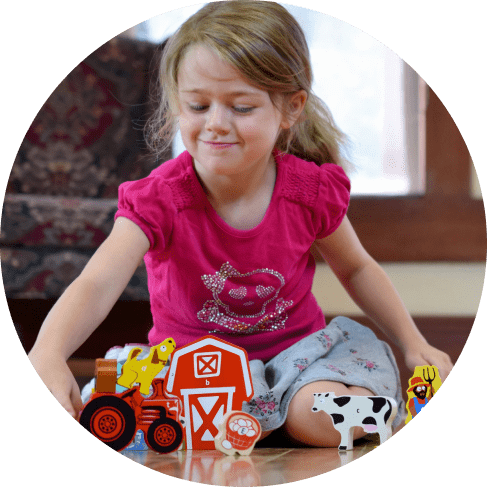 It's an old-fashioned barn raising
The Balance Barn game and playset offer a fun family stacking game and farm character playset - all in one! Kids love to play with the farm characters telling their own stories, and families can play a simple yet fun stacking game together.
Can you balance them all?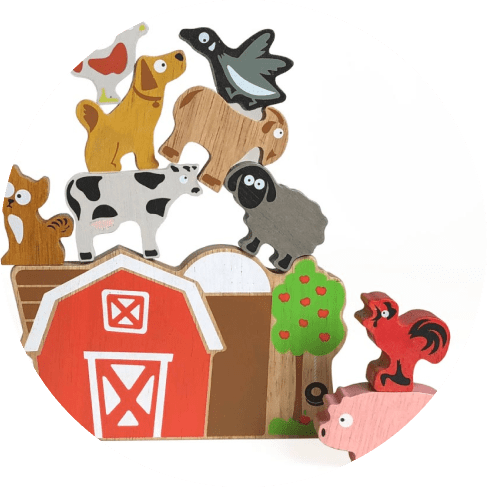 What's in the box?
12 all-natural wood pieces painted with bright, bold colors, and 1 barn to balance them on. Stack fun farm shapes like the horse, cow, pig, puppy, rooster, sheep, duck, kitty, and goose.
It's a fun, puzzling challenge
Develops fine motor skills while encouraging critical thinking and problem-solving. All-natural wood pieces with bright, bold colors. For ages 3 and up. Farm Playset dimensions: 6.6 x 9.0 x 1.0 inches.
Simple to play, tough to master
Now, what are all those animals doing on the barn roof? Balancing, of course! And they think it would be the bee's knees if you helped stack them up high. They've bet the farm it won't take you longer than two shakes of a lamb's tail! So go ahead, take the bull by the horns, and do your best to balance the whole barnyard!