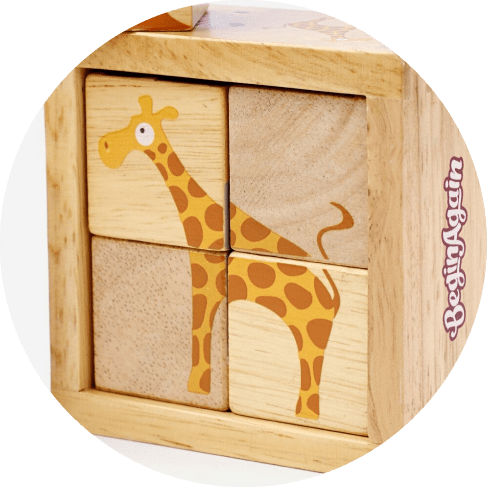 The popular parent's choice
This 4-piece block set will please animal-crazy kids and their eco-minded parents. Mix and match the blocks and solve 6 animal puzzles with this great set! Made from rubberwood and colored with child-safe stains, the playset develops the creative thinking and problem-solving skills.
A challenging puzzle play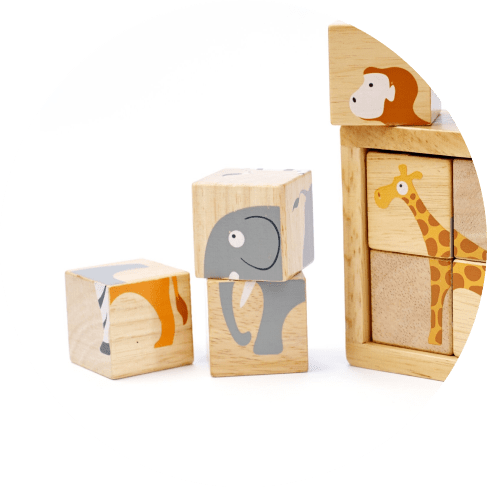 Perfect for hands-on learning
The Buddy Blocks are fun and colorful building blocks for toddlers that double as a baby animals puzzle. Stack, roll, grab or piece together this animal toy puzzle for endless hands-on learning fun.
It's 6 puzzles in 1
The Buddy Blocks features six different animal designs printed on each side of the four puzzle cubes. Accurately match all four sides to reveal the animal!
Modern design and traditional materials
Problem solving, storytelling, and curiosity are the tools kids need. Add some imagination and your child is ready for their first STEAM learn and play toy! These wooden blocks will be sure to charm your preschoolers with their adorable retro look. Made from rubberwood and finished with water-based child-safe stains!